Three-Way Discussion by ISHIDA Minori, KIM Joon Yang, and SUZUKI Jun on the Anime Archive as Collaborative Research Connecting to the Future
Mar 5 2021
Features
Anime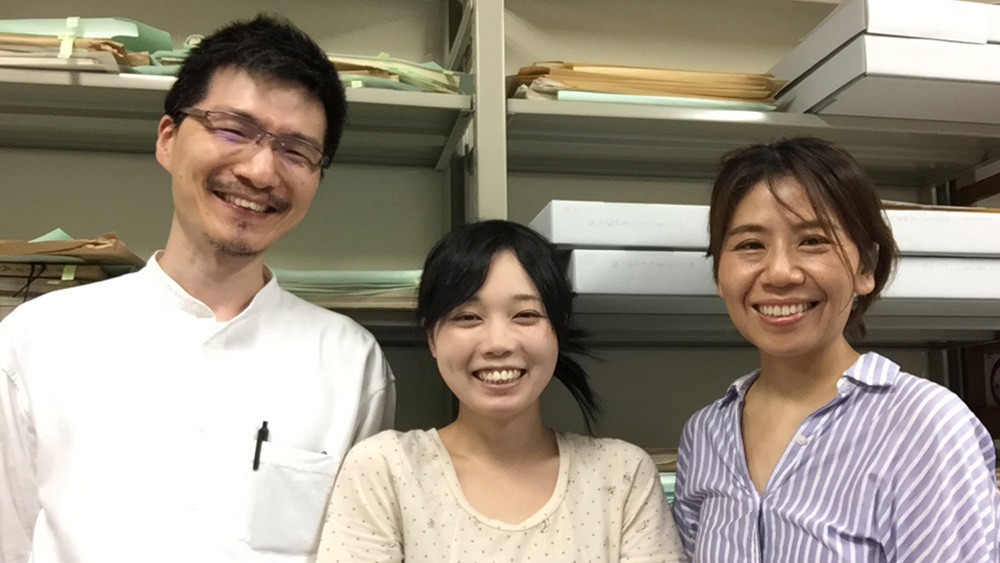 In recent years, anime as Japanese popular culture has been attracting attention both from within Japan and overseas. However, while anime culture has been in the spotlight, the cels and storyboards created in the production process of the anime industry have not been properly managed or preserved, with many of them apparently being thrown away as waste. The Archive Center for Anime Studies focuses on these "intermediate materials of anime," managing and preserving them while being well evaluated both in Japan and abroad on its efforts in utilizing them in a wide range of fields. We held a three-way discussion by the co-directors and the archivist of the Center to publicize the Center's activities and academic hopes for the future.
First encounters with "intermediate materials of anime" with no place to go
――Please tell us about how this project became possible at Niigata University.
Ishida The first step was taken with Prof. Kim's connection.
Kim In 2012, a conference on Japanese subculture, called Mechademia, was held in Seoul, and there, a lecture was given by an animation scholar Watanabe Hideo, who was a former anime director and also a member of the Japanese Society for Animation Studies. During the lecture, Prof. Watanabe showed to the attendees some intermediate animation materials, and that's how I first came to learn about his collection. After I joined the faculty at Niigata University in 2014, I had an opportunity to ask Prof. Watanabe about the materials again, and in passing he asked me if I could take them off his hands.
Ishida So, in order to look at the materials, in the summer of 2015 I and Prof. Kim visited the Shonan Institute of Technology, where Prof. Watanabe was teaching. Prof. Watanabe was about to retire, and therefore was looking for someone to entrust with the intermediate materials he was using for his work. If he just took them home, they would probably…
Kim …end up in the trash.
Ishida There was a high likelihood of their being disposed of. It seemed he had contacted many people or institutions, but the only one that would accept them was Niigata University.
Kim The situation is that there aren't enough number of institutions that accept intermediate animation materials.
Niigata University made possible the research project impossible for one person
Ishida In 2016, we were entrusted with the intermediate materials by Prof. Watanabe and then, named them the "Watanabe Collection" at the same time establishing the Archive Center for Anime Studies as a research group within the Faculty of Humanities. Prof. Kim specializes in animation studies, and I research audio-visual culture, so it was significant that there were at least two faculty members at the university who were interested in the intermediate materials of anime to make research collaboration possible. Prof. Watanabe sent us about 1/5 of the intermediate material we currently have at the center. Initially, Prof. Kim and I did scanning by ourselves, discussing what to do for cataloging the materials and what to do for database construction.
Kim The scanning was for digital preservation, but in the beginning, I was trying various kinds of things while organizing some pieces of equipment.
Ishida When did you join us as an archivist, Ms. Suzuki?
Suzuki It was from April 2017. My research field is live-action films, and at that time I was also investigating scripts and other intermediate materials relating to them.
Ishida Above all, Ms. Suzuki is truly a perfect organizer of materials. She has an indispensable talent for the archiving activities. In 2017, Prof. Kim obtained Kakenhi, that is, a Grant-in-Aid for Scientific Research in Category C (a grant from the Japan Society for the Promotion of Science which promotes academic research), and this year, his archiving proposal was selected again for a Grant-in-Aid for Scientific Research in Category B. Meanwhile, Ms. Suzuki has been incessantly engaged in in archiving at the Center, and is now such an experienced archivist of the intermediate materials of anime.
――So, many people were involved in developing this research.
Ishida It wouldn't have been possible for a single person. It wouldn't have been possible with any other university.
Kim If I had tried to do it alone, I think probably what was possible for me would have been to store all of them in my own office, trying out something alone quietly.
A project that grew valuing encounters and connections
Kim In 2017, we collaborated with GAINAX Co., Ltd.[1] to organize and digitize the intermediate materials created for the feature film Royal Space Force: The Wings of Honnêamise (1987), and then were also involved in the exhibition on the film at the Hachioji Yume Art Museum.
Ishida Not only in the Watanabe Collection, we also came to be involved in a variety of more activities. With those practical experiences over the past few years, the way we archive the materials has become much more organized.
Suzuki In any case, the number of materials is so large that just creating the digital data of them is not enough. We are also working on the follow-up issue of how to use the data as a database. We're adjusting preferences and settings for data of images digitally taken, and still investigating a technical protocol or guideline of archiving for this center. It's a process of trial and error, with input from the professors.
Kim I think the experimental process of determining what is a good policy for our archive will become a subject of research. Moving forward, I would like to gather knowledges, sharing with experts in related fields, to find what kinds of value and evaluation can be made of the archived materials and data. Currently, with the participation of Prof. IMAI Hiroei, an expert in information engineering, we are developing a search system to create an internal database only available within Niigata University, and I'm looking forward to seeing how it develops in the future.
――So that's both a prospect and a challenge.
Kim That's right.
Research trusted by related industries
Ishida One of the major issues is copyright.
If you look at the intermediate materials of anime, you will see that a work of animation cannot be attributed to any one single artist. An anime series is completed with the participation of a great number of people. This makes the issue of copyright complicated.
Kim The anime industry is connected to the manga industry and each has its own rules and etiquette. Something we aim for is also that this research acquires reliability from those industries and further we share its achievements with them.
Ishida Instead of just polite lip service, I think all we can do is truly gain their trust little by little.
Research toward "animation archaeology," envisioned with the archived materials of anime
――What have your major discoveries been so far in your archiving activities, and what kind of future impact do you expect for not only academia but also industry?
Ishida The intermediate materials of anime used in the production process include many traces that allow an understanding of what was going on at the time, and being able to examine such materials directly is of great significance. Our vision of anime research embraces law, economics, and science and technology, and there is always something new to discover in each piece of the materials. I am very much looking forward to seeing how the intermediate materials of anime will be used in academia in the future.
Kim You could probably even call it "animation archaeology," because we are excavating the materials themselves. The field of anime or animation research has tended to center on analysis of what is seen on screen, but in the current tendency of moving image and media studies, more and more research is becoming focused on stages of the production process of moving image and the materials involved in each stage, and is coming to take moving image as an object.
Ishida I think that the intermediate materials of anime are a body of materials that can engage even those who are not strongly attached to anime in terms of academic interests. Even with storyboards, you will find only circles and dots to indicate characters rather than cute characters drawn in detail, and they include various letters and symbols to be used for the communication between production crewmembers. The materials aren't only for anime enthusiasts, and also, I don't think anime/animation studies drawing on such old materials is for young people.
――Something like "Cool Japan" or "subculture" just because it's "anime"?
Ishida Certainly anime is a field of interest both domestically and internationally. But it would be somewhat frustrating for us if people think we are just doing something peculiar or trying to get some popularity.
Kim Right. Doubtless, it's an attractive field as a point of entry, but in reality, researching it comes to involve quite intricate work.
Expectations from the anime industry as a driving force for us toward research for a wide contribution to society
Kim I feel rewarding, for instance, when Ms.YAMAKAWA Michiko, a leading anime archivist who is actively engaging with intermediate materials at Production I.G, Inc.[2] told me, "This kind of research can only be done at a university." That was a happy moment.
Ishida Yeah, it's really great, isn't it?
Kim It struck me that others had some expectation of our research.
Ishida That works as a driving force.
――So it's about giving back and contributing to the anime industry that has been supporting your research.
Kim That's right. I hope that the actual achievements impress the anime industry.
Ishida Above all, we will try to avoid creating the impression that such archiving activities hurts those concerned in the industry.
Kim Instead, leading to interests, benefits.
Archives for the future, not the present or the past
Suzuki In a sense, what I'm doing itself can be considered as what should be archived.
Ishida If someone only has the data of our archived materials, she or he does not have any idea of who took and documented them for what.
Suzuki For example, I'm scanning one and the same material in multiple versions because I'm trying and testing different settings with scanners, but if someone doesn't know the "trial-and-error" story behind that work, she or he will probably wonder why I scanned one and the same material repeatedly. It might not look like anything other than uncommonly obsessive scanning by an enthusiast (laughs).
Ishida You can't call it an archiving activity if nobody understand the meaning of the data when they are discovered 100 years on (laughs). There needs to be a systematic explanation of that data.
――So it means that an activity of research itself is like part of the archive.
Suzuki It's true.
Ishida Archiving is often thought of as organizing the past neatly, but the goal is rather to build an archive for the future. I don't believe it's quite the same thing as people think saying, "It's nice you're carefully looking after old things."
Kim I agree with Prof. Ishida, it's not the same.
Ishida I think that we are doing this for the future, for generations that will come much later. I believe that. Otherwise, archiving would be so tough at times because it requires persistent effort (laughs).
All (laughs)
Footnotes
 An animation production company. Their first memorable work was Royal Space Force: The Wings of Honnêamise
Profile
Interview date: August 18, 2020
Interview/text: TAKEUCHI Tomoha (Master's Program, Graduate School of Modern Society and Culture)
Related Links:
Research of Archiving Anime